We only accept audio files in non-compressed formats (no mp3, etc.).
Multi-channel submissions should include:
all files named according to the guidelines below
a stereo mixdown of the work (NO mp3, only original uncompressed audio)
a detailled Technical Sheet (see below) as a separate file (pdf)
File Naming Convention for Speaker Positioning
Use the format "lastname_keywordfromtitle_POSITION.extension" to name your files (no special characters or spaces). Do not include any other information in the file names (e.g. bit depth or sample rate).
To indicate the speaker position for each stem, use capital letters as follows for works up to 8.1 (larger setups should be based on this model and detailed in a separate Tech Sheet):
L = left
C = centre
R = right
F = front
S = side
B = behind
SUB = subwoofer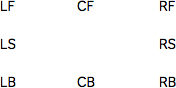 eg. Kevin Austin — The Mandolin Rises at Noon (2009), for solo loudspeaker and subwoofer (1.1)
austin_mandolin_CF.aif
austin_mandolin_SUB.aif
Technical Sheet for Multi-Channel Submissions (in pdf)
Indicate your first and last name and the title of your piece as name for the Tech Sheet.
Indicating the following information for your submission. Feel free to add any other relevant information.
sampling rate and bit depth of the multi-channel and stereo formats
speaker positioning diagramme (use the convention indicated above)
proposal for channel assignment for a 5.1 setup
proposal for panning positioning of channels to listen to the work in stereo (e.g., L LC C RC R)
During the submission process you can choose whether or not to allow the multi-channel files to be downloadable by Sonus users
[Page last updated October 2018]